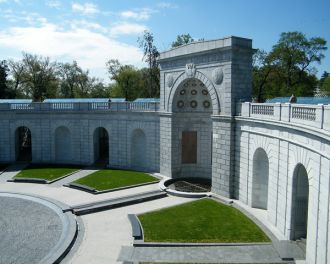 U.S. Military Memorials
National Memorials
American Indian Veterans National Memorial
Phoenix, AZ
Arlington, VA
Virtual/Online
Women In Military Service For America Memorial (WIMSA)/(The Women's Memorial)
Arlington, VA (Please consider donating...your support is much needed to keep the memorial doors open for posterity!)
Registration/Donation Form: Women in Military Service for America Historical Servicewomen's Records
Preserve servicewomen's military heritage...add your story to our national military history repository!
State Memorials
Women Veterans Monument (Under construction)
Las Cruces, New Mexico
War Memorials
Revolutionary War National Memorial Arch
Valley Forge, PA
Civil War Soldiers National Monument
Gettysburg, PA
Kansas City MO
Washington D.C.
Bedford, VA
Washington D.C.
Washington D.C
Washington D.C.
The Moving Wall (Vietnam Veterans Memorial)
U.S.
Middle East Conflicts Memorial Wall
Marseilles, IL 61341
Honor the Fallen (Iraq & Afghanistan)
Virtual/Online
Noonie Fortin Memorial Archive
Virtual/Online
Virtual/Online
World War I Memorial (Site and design approved. Donations needed for construction.)
Washington, DC
Air Force Memorials
United States Air Force Memorial
Arlington VA
Army Memorials
No singular national memorial--unit memorials nation wide
Coast Guard Memorials
United States Coast Guard Memorial
Washington D.C.
Marine Memorials
United States Marine Corps Memorial
Quantico VA
Navy Memorials
Washington D.C.
Helpful Memorial Guides & Tools
Military Museum & Memorial Guide
United States
National, State, & Territory Veteran Cemeteries
Online at www.cem.va.gov (Veterans Administration)
Nationwide Veteran Gravesite Locator
Online at www.cem.va.gov (VA National Cemetery Administration)
U.S. Military History, Memorials, and Monuments
Online at www.usa.gov
Online at www.military.com
National Mall and Memorial Parks & Museum Map
Online at www.nps.gov (National Park Service)
National Mall and Memorial Parks & Museum Mobile App
Online at www.nps.gov (National Park Service)